Marshall County AGENCY FOR SUBSTANCE ABUSE POLICY (ASAP)
The Kentucky Agency for Substance Abuse Policy (KY-ASAP) was created in 2000 to develop a strategic plan to reduce the prevalence of alcohol, tobacco and other drug use among youth and adult populations in Kentucky and coordinate efforts among state and local agencies in the area of substance misuse prevention.
KY-ASAP has continued to evolve since its placement into the Office of Drug Control Policy in 2004. KY-ASAP continues to embrace and incorporate the philosophy of ODCP to involve the three-pronged approach of prevention, treatment, and law enforcement. Within that three-pronged approach, there are several intervention programs that have been proven to be effective and are available to schools, families and communities.
A key concept of KY-ASAP is policy change. Local Boards have evolved, as envisioned, as policy makers within their communities. Many have developed initiatives for smoke-free environments and worked with school systems to provide programs to teach our youth about the dangers of alcohol, tobacco, and other drugs. There are now 119 boards located in 120 counties of the Commonwealth.
Source:  https://odcp.ky.gov/About/Pages/History.aspx
Marshall County (MC) KY-ASAP serves as the substance use work group under the regional, Marshall County Health Coalition.  MC KY-ASAP board members are comprised of several members from several agencies.  Meetings are at minimum, quarterly.  Email Jenny Griffin at jgriffin@mcphd.org for more information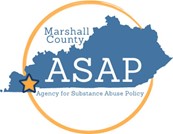 This project was supported by funding awarded through the KY-Office of Drug Control Policy (ODCP) & KY-Agency for Substance Abuse Policy (ASAP).  The opinions, findings, conclusions, and recommendations expressed in this publication/program/exhibition are those of the author(s) and do not necessarily reflect the views of the KY-ODCP.